I try to avoid talking about myself on my blog, mainly because there are so many more interesting things for me to write about and for you to read (thanks for reading my stuff, by the way!). But, as this is still pretty fresh in my mind and I have a few things I wanted to address, I'm just going to go ahead and tell you how my first experience of an exercise class went down.
To cut a long story short, I've suffered from lower back issues for many years, and this is a combination of being active, but with a not so healthy combination of overuse, bad recovery and poor nutrition (namely eating crisps and drinking cider in the summertime). I love being active, don't get me wrong, but I have always been a sucker for a burger and a bag of crisps! Ultimately, if you don't have a good balance then something's got to give, and in this case, it was my back – something that hasn't fully recovered. However, through physio sessions and some more discipline, I'm back on track.
As I've gotten stronger, mentally and physically, combined with my improved conditioning work, I've been able to look at stepping things up a bit from 20-30-mile road rides and playing golf.
Enter Body Pump
A couple of the people I work with had started attending body pump classes at the local leisure centre, where I'm a member. I initially signed up because I wanted to hit the gym and work on my physical shape to help my golf; easier said than done. I don't know what it is with the gym, but it really just does not stimulate me in the slightest. Despite what people say, experienced gym heads will give you plenty of help if you're a newbie, so it wasn't a case of looking stupid, I think I just felt like it wasn't sociable enough. I'm very much a people person, so when the guys mentioned body pump, I was keen to give it a whirl.
What is Body Pump?
This workout challenges every major muscle group in the body by using the ideal weight-room exercises such as:
Squats
Presses
Curls
Lifts
These exercises are then focused on through high repetition movements with low weight loads. The effects help achieve strength and introduce lean body muscle conditioning.
We rocked up to the studio nice and early, and it was already packed! We set up, I looked around, and saw there was clearly a rich mix of abilities among the group. We were right at the back like naughty school kids trying not to be seen!
The cheesy workout tunes began, and immediately put a grin on my face. We kicked things off with the warm-up to the trance genre – the trouble was, I couldn't hear what was being said by the instructor (because we were hiding at the back) and I loaded up my bar for the squats. What I'm saying here is that the warm-up had me in trouble from the start! My legs are very much 'cycle-fit' as I ride daily, but body pump does what it says on the tin… my quads were pumped… and shaky!
We moved on to cover all aspects of the body as I mentioned earlier. So, from biceps to triceps, shoulders, back and chest, core, glutes and legs (again!), we ticked everything off the list. It's safe to say that this is a tough class the first time you do it. You don't really know what to expect next, and in the back of my mind, I'm thinking that I need to give every exercise 100%, but then I didn't want to kill myself off and have nothing left for the next section.
My back held out well, and there was only one point when we were working through a set of lunges that I felt any kind of twinge, but I think the shock to the body kind of factored into this issue! I saw out the whole session, and the Pilates-style cool down was particularly enjoyable, although the walking down the stairs to the leisure centre reception after the class was not!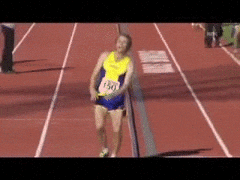 Things I took away from doing an exercise class
Yes, very much so. I'm not great with pain, and I would definitely have been a melt and peeled off the session if I was doing it at home. But, with everyone around going through their own personal struggle, knowing that the goal at the end is worth it, I guess we're all in it together, pushing ourselves, and each other, without knowing it.
Aren't exercise classes for girls?
NO! There's plenty of stigma around exercise classes, and I've been met with some caveman-esque comments about me being the only guy in the class; basically, insinuating that body pump is for girls. People exercise differently, and they should do what keeps them motivated as well as doing what helps them to reach their desired target. For anyone who thinks they're too tough for body pump, I challenge them to go to a session and push the weights they 'think' they can, for a full session.
For anyone who's never tried something like this before, I'd definitely recommend it. It's fun, it's hard work, but at the end of the day you're there because you want to improve your own health and fitness – and making that first step is often the hardest. Absolutely no one is judging you; it's not a contest – you'll be too busy fighting your jelly arms/legs to think about what anyone else is doing. And if you miss a rep or two, it's no drama.
As I write this, with second day DOMS in full effect, I can safely say that I have already booked in again for the next session. What better way to spend Valentine's Day, eh?
Image: Oregon State University